Nouvelle parution / New release
"PENINSULA"
Label Usine 2017

Jérôme BOURDELLON
octobassflute -bass flute - alto flute - C flute - koncovka

invite

Michel EDELIN
Bass flute - alto flute - C flute - bansuri - ethnic recorder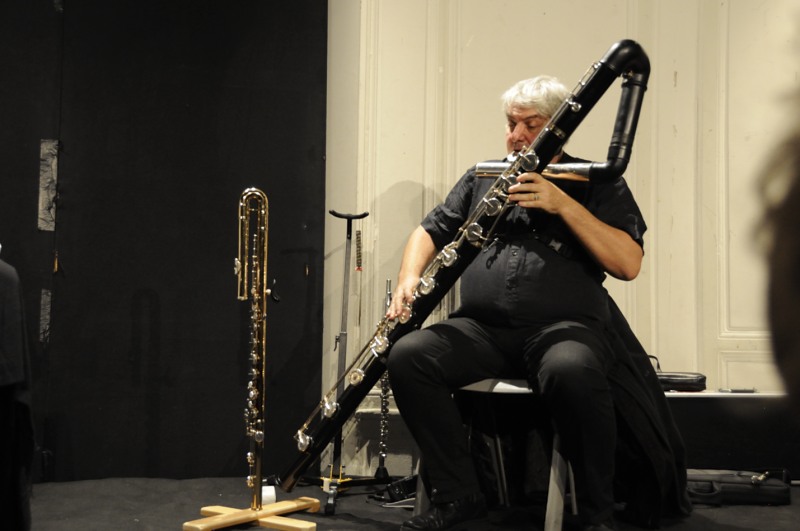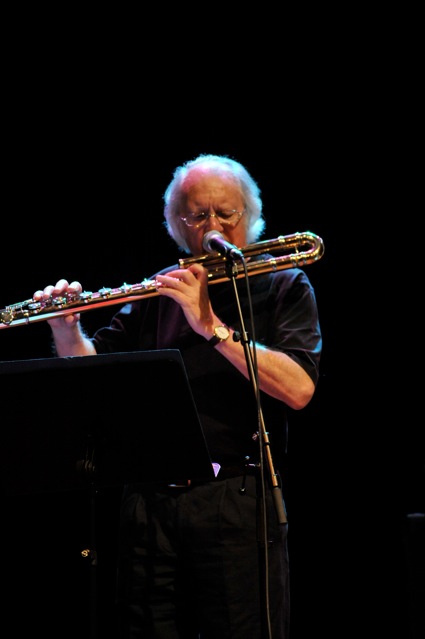 Extraits de / Extracts from
Pan : Michel Edelin left / Jérôme Bourdellon right
Ecouter/listen (6 mn)
La Presse :

Peninsula Label Usine L.U. 2017
Fine and forcible flute fabrication featured from first-rate French flutists characterizes Peninsula with the nine tracks substantiating that the transverse instrument is more versatile than most listeners realize. These veteran Gallic improvisers though are no strangers to cooperative playing with other flutists or with other instrumentalists. Jérôme Bourdellon for instance has recorded with Joe McPhee and Carlos Zingaro among many others; while Michel Edelin has not only duetted with Nicole Mitchell, but headed a Paris group with two other transverse tooters. Also on this CD in order to spread the sounds during this flute soufflé, Bourdellon plays bass flute, octobass flute and Koncovka flute as well as the standard instrument, while Edelin adds alto flute, bass flute, Indian bansuri and recorder to his flute flights. The pitch and weight of the deep-toned instruments allow the two to frequently construct a chunky continuum, with booming breaths or key percussion providing the sonic terrain upon which the other player can build as many gentle or ethereal puffs as needed. At the same time while understated a basic rhythmic thrust is always present. Various strategies are elaborated throughout as well. "Rut des Béhémots", with Edelin on alto flute and Bourdellon on bass flute is the blusiest track, with different tempos used to further isolate the tone separation, creating a lunging call-and-response effect. Then at points on "Soleil d'argent", Edelin on straight flute angles his solo upwards like a soloist in a big band, as Bourdellon's octobass flute pushes with the power one would expect from band section work, with the underlying pulse never slacking as it quickens. Sounding primitive and nautical simultaneously on "Lunules électriques", Bourdellon's Koncovka flute and Edelin's recorder even join to produce what sounds like a duet for swinging hornpipe. The duo most profound interaction is "Bleuités" and following "Poissons d'or", which serves as coda to the preceding track. With Edelin moving among flute, bansuri and bass flute and Bourdellon utilizing flute and octobass flute, the two intertwine Indian and European airs with ostinato growls from the low-pitched instrument and add a cunning within-the-groove wail from the other. Continued on the subsequent track, both players' facility is celebrated with a theme that is both swinging and folksy. A definite must for flute fanatics, the skills Bourdellon and Edelin bring to the program will likely attract even those who usually avoid the instrument(s). —Ken Waxman "Jazz Word" Canada
Deux flûtistes exclusifs (chose rare en jazz et musiques cousines), avec tout ce que ce choix procure de maîtrise, de connaissance intime de l'instrument, et de recherche d'accès au graal instrumental quand il tutoie la monomanie. En fait, l'exclusivité et la monomanie sont relatives : il est arrivé à Michel Edelin de trahir sa flûte pour un saxophone soprano, mais le souci de ne pas froisser les esthètes l'a fait renoncer à cet écart véniel. De plus, outre que l'un et l'autre s'associent pour couvrir le champ instrumental qui s'étend de la flûte soprano jusqu'à la (très) rare flûte octobasse, ils s'autorisent aussi des excursions exotiques vers les flûtes indienne, slovaque, voire d'origine non identifiée. Le parti pris est celui de l'improvisation libre, où l'un et l'autre excellent. L'enjeu n'est pas mince : lancer un son, une note, une phrase, un rythme, qui se combinera dans l'instant avec la réactivité du partenaire, lequel n'aborde pas l'exercice sans bagages, mais avec ce désir de privilégier l'inouï, l'inattendu, sans oublier le passé, la culture et les expériences antérieures. Un court instant, on croit faire incursion dans l'après-midi d'un faune, mais on bifurque très vite vers d'autres horizons : les circonvolutions à l'orientale, les appels de sirènes pour un possible départ, les courses folles dans les escarpement du grave ou de l'aigu, puis l'abandon au monde des lointains. Tous les titres choisis empruntent des mots ou des expressions au Bateau ivre de Rimbaud. Il ne nous reste plus qu'à nous abandonner « Ô que ma quille éclate ! Ô que j'aille à la mer ! ». L'ivresse (musicale) est au programme de cette navigation sans balises. Xavier Prévost LE JAZZ SUR LE VIF
"Jérôme Bourdellon – Michel Edelin : deux souffleurs de bonnes aventures. On les connaît. On les apprécie. Les voir réunis est une excellente nouvelle. D'autant plus que leurs flûtes se portent larges (flûte alto, flûte basse, flûte octobasse, bansuri, flûte Konkovka, flûte non identifiée) et qu'ils ne sont pas économes de leurs souffles ici. Les voici en plein cœur du contrepoint, du dialogue charnel. Les voici s'opposant. Les voici dans le jardin des délices. Les voici sombres et gorgés d'histoires. Les voici africains, indiens, amérindiens. Les voici bluesman, griots, chefs de cérémonie. Les voici pygmées Aka. Les voici slalomant et jamais s'éternisant. Les voici guimbardes ivres. Les voici eux, tout simplement : deux flûtistes pour un seul bateau ivre (puisque la référence à Rimbaud est explicite). Que demander de plus." Luc Bouquet. IMPROJAZZ.
"(…) Le duo vous emmène dans des contrées orientales insoupçonnées parce qu'elles ne sont pas orientales pour un sou. Non, elles vous secouent la couenne d'un souffle doucereux mi-mélodique, mi-murmurant. (…)Les flûtes se transforment en didgeridoo ou jouent à la courte échelle. L'ombre de Arthur Rimbaud plane sur Peninsula (…) Vive la flûte !" Pierre Cécile. LE SON DU GRIZLI
Distribution

https://www.lesallumesdujazz.com/produit-peninsula,2327.html
Label USINE : 118 avenue du Général Leclerc 54220 MALZEVILLE : jerome.bourdellon@wanadoo.fr
Improjazz :improjazz@wanadoo.fr